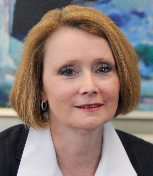 Attorney Donna L. Buttler
Attorney Donna L. Buttler practices with a dedicated team of attorneys and is a founding partner of Murphy, Laudati, Kiel, Buttler & Rattigan, LLC with offices in Farmington, Bloomfield and Granby. Donna Buttler practices collaborative law and mediation to serve her family law and matrimonial clients in Hartford and Litchfield counties and the surrounding areas.
Donna uses over 20 years of experience to be a strong advocate for her clients, while helping couples resolve their conflicts without court intervention. She uses principled negotiation techniques that encourage good-faith problem solving while stressing cooperation and respect to guide her clients through the emotional, financial and custody issues that stem from the dissolution of a marriage and other family changes. With her experience, knowledge, and creativity, she advocates for her client's interests in ways that rebuild family stability and financial strength after a divorce or separation.
Donna works with likeminded professionals in the fields of child advocacy, mental health and financial planning to ensure all of the needs of all clients are addressed in a comprehensive settlement package, which includes business and property valuations, financial planning, relocation, custody and parenting plans. Whether complex or straightforward settlements are needed, Donna ensures that the process is conducted in privacy and with compassion.
Donna was admitted to the Connecticut bar in 1994, and has practiced before the Connecticut Superior Court, Appellate Court, Supreme Court, and the U. S. District Court for the District of Connecticut. After working for a large Hartford firm and clerking in the Connecticut court for the Honorable Michael R. Sheldon, Donna entered solo practice in 1997 and formed the current firm with offices in Bloomfield, Granby and Farmington in 2010.
Donna is a member of the International Association of Collaborative Professionals and the Connecticut Collaborative Divorce Group. She is a board member of the Connecticut Council for Non-Adversarial Divorce since 2014. She is also the co-chair of the family law section of the Hartford County Bar Association since 2013. She is an active member of the Connecticut Bar Association, Connecticut Bar Association Family Bar Section, Hartford County Bar Association, and the American Inns of Court/Oliver Ellsworth Inn of Court. She serves as a Special Master in the Hartford and Litchfield courts since 2000.
Donna L. Buttler
Murphy, Laudati, Kiel, Buttler & Rattigan LLC
10 Talcott Notch
Suite 210
Farmington, CT 06032
P: 860-674-8296 x104
F: 860-674-0850
Dbuttler@mlkbr.com